Alzheimer's disease (AD) affects approximately 5.7 million Americans and costs taxpayers $277 billion in Medicare and Medicaid expenses. Globally, AD affects more than 44 million people and that number is expected to grow to 135 million by 2050. No new symptomatic therapies have been approved over the past 12 years, and there are currently no approved disease-modifying agents.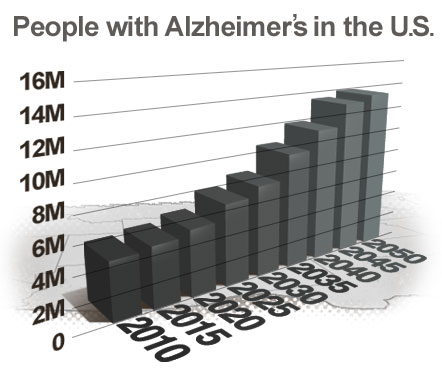 Current Clinical Development Bottlenecks
A number of trials of at-risk older individuals thought to be in the preclinical or prodromal stages of AD are underway or currently being planned. The recruitment and site activation processes for these trials, however, face a number of challenges that create significant drug development bottlenecks. In the U.S., recent reviews show that 85-90% of trials have delayed recruitment, with 30% under-enrolling and only 7% of sites recruiting the projected number of participants. Factors contributing to these delays and shortfalls include:
Clinical trial infrastructure is rebuilt trial-by-trial, sponsor-by-sponsor.
AD trials require hundreds of global sites, which often vary in their quality of training, raters, data management, and imaging.
Participant recruitment and screen failure rates significantly increase trial costs and time.
No national or international institutional review boards (IRBs) exist.
Trials are often repeated multiple times at high costs
Reason to Hope
There are currently more than 100 promising AD therapies in clinical development. The goal of GAP is to greatly accelerate current and future secondary prevention trial enrollment through an innovative, highly efficient approach to identify, evaluate, and enroll appropriate preclinical and prodromal trial candidates. These efforts will be supported by a new infrastructure with distinct capacities needed for the successful operation of AD clinical trials.
History
GAP was launched at the end of 2013 through a collaboration between the Global CEO initiative on Alzheimer's disease (CEOi) and the New York Academy of Sciences (NYAS).  Today, GAP engages the foremost academic and industry thought leaders and developers within the global Alzheimer's community.