WHY GAP?
Alzheimer's disease and related dementia (AD) is an insidious affliction affecting almost 50 million individuals around the world, including millions of Americans, and costing over $800 billion in medical and care costs. As a result of global aging demographics, Alzheimer's will cause untold human suffering on a scale not experienced in the modern era. The high cost, inefficiency and high risk of failure in Alzheimer's clinical trials is perhaps the most significant impediment to faster progress against the disease. The GAP Foundation aims to drive solutions to that impediment, thereby speeding the development path for more than 100 promising AD therapies in development.
Click here for more information.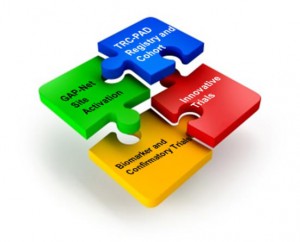 The GAP Foundation develops and collaborates on a number of initiatives that contribute to the achievement of the Foundation's overall goals. Current initiatives are highlighted below.
TRC PAD [pronounced 'Track Pad']
One of the Foundation's primary goals is to establish a Trial-Ready Cohort for Preclinical/Prodromal Alzheimer's Disease (TRC PAD) trials. By establishing a recruitment infrastructure to ensure speedy enrollment of targeted individuals into optimally-designed trials, TRC PAD can accelerate drug development for AD. The GAP Foundation is collaborating with the the University of Southern California Alzheimer's Therapeutic Research Institute to bring public and provide sector funding to this initiative.
Click here for more information.
GAP-Net
The GAP Foundation has established and is funding a GAP site network (GAP-Net). GAP-Net is a standing network of high performance clinical trial sites optimized to activate sponsored trials, conduct ongoing longitudinal studies, and manage Alzheimer's clinical trials with greater efficiencies, and are certified and managed to meet industry-accepted quality and performance criteria.
Click here for more information.
Trial Innovation
The GAP Foundation is committed to driving innovation in all phases of clinical trials across all stages of AD. The efficiency of Alzheimer's drug development will greatly improve by having a clinical trial platform that enables adaptive trials and has the flexibility to incorporate multiple studies on different populations.
Click here for more information.