Lilly, AbbVie, Merck, the Alzheimer's Drug Discovery Foundation, and leading technology companies join the first platform study assessing various biomarker tests' ability to predict the presence of Alzheimer's
Contact: Pamela Larkin – pamelalarkin@rational360.com, 408-466-5952
Washington, DC (April 20, 2021) – Today, the Global Alzheimer's Platform Foundation® (GAP) announced eleven biopharma, technology, and nonprofit partners who are contributing to GAP's Bio-Hermes Study. Bio-Hermes is the first-ever platform study to compare results of blood and digital biomarker tests, including digital cognitive and voice assessments, with the results of brain amyloid PET scans and traditional cognitive tests. GAP's Bio-Hermes Study database will allow scientists to assess the ability of each biomarker, or combination of biomarkers, to prognosticate the accumulation of amyloid in the brain – the hallmark of Alzheimer's. Use of biomarkers could lead to earlier and more frequent detection of amyloid in the brain, prompting those affected to seek early intervention, including participation in clinical trials for Alzheimer's prevention or treatment.
"We may not be able to imagine it now, but in the next few years, simple tests to facilitate Alzheimer's diagnoses will become as widely used and accessible as any common blood test," said John Dwyer, the President of GAP. "The automation of the complete blood count test, which we consider routine today, led to a revolution in the early detection of cancer and a dozen other diseases. Quick and simple-to-administer tests will substitute for expensive brain amyloid PET scans to aid an Alzheimer's diagnosis, and our Bio-Hermes Study is an important step in developing tests that can be offered by any primary care practice."
The Bio-Hermes Study is the first Alzheimer's clinical trial to unite a consortium of prominent leaders in the Alzheimer's field from nonprofits, to biopharma companies, to technology innovators. GAP's Bio-Hermes strategic partners include AbbVie, the Alzheimer's Drug Discovery Foundation, Lilly, and Merck. Technology partners are Aural Analytics, C2N Diagnostics, Cognivue, IXICO, Linus Health, Quanterix, and RetiSpec.
GAP's Bio-Hermes Study database will include results from some of the most advanced blood and digital biomarker tests available. Among the blood tests being compared are: p-tau 181, 217, and 231; A?42/40; and neurofilament light. Digital tests include FDA-cleared cognitive tests and novel tests for eye movement and speech analytics. Some participants also will join a sub-study to detect disease biomarkers in the eye.
Lilly will provide full genomic sequencing of each Bio-Hermes Study volunteer and a separate APOE gene test. Along with the results of blood and digital biomarker tests and PET scans, this genomic information will enable scientists to find new connections between genetics and the biomarkers of Alzheimer's disease.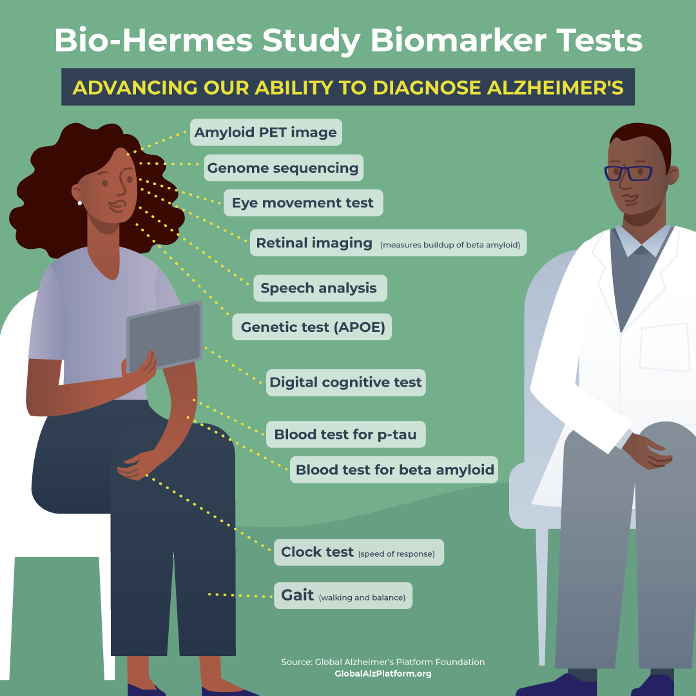 GAP's Bio-Hermes Study is also one of the first Alzheimer's clinical trials to require diversity among volunteers as a critical endpoint in the protocol of the study. GAP will continue recruiting study volunteers until at least 20% of participants are African American or Hispanic – a rate four times that of the average Alzheimer's clinical trial. The resulting data may meaningfully help scientists learn more about potential racial and ethnic differences in Alzheimer's disease diagnostics and help ensure that the biomarkers developed for Alzheimer's are sensitive and specific for everyone living with the disease.
"We are excited to partner with the Global Alzheimer's Platform Foundation and other leaders in the field on this landmark study as the utilization of biomarkers is critical to the advancement of Alzheimer's research and clinical practice," said Mark Mintun, Vice President of Alzheimer's Disease Development Unit, Eli Lilly and Company. "We are hopeful that this partnership will result in diverse representation so that future treatments have broad relevance for all families battling this disease and improve health equity."
The Alzheimer's Drug Discovery Foundation (ADDF) is providing funding for Bio-Hermes through its Diagnostics Accelerator (DxA) research initiative, which invests in peripheral and digital biomarker tests for early, non-invasive, and affordable diagnoses of Alzheimer's disease.
"Evidence is pointing to many biological pathways and systems being involved in Alzheimer's and other neurodegenerative dementias," said Howard Fillit, M.D., Founding Executive Director and Chief Science Officer of the ADDF. "Collaborations like this with Bio-Hermes will help speed development of diverse biomarker modalities that will eventually be used not just to diagnose and enroll the right patients in clinical trials, but to develop personalized approaches to their treatment."
Nine research centers in Florida, Illinois, Kansas, Texas, and New York are recruiting participants for GAP's Bio-Hermes Study. Participants with and without memory loss are needed for this study, and should be between the ages of 60 and 85 with a study partner who can participate in all visits. The clinical trial requires only three study visits and a follow-up phone call (if needed).
About the Global Alzheimer's Platform Foundation® (GAP)
The Global Alzheimer's Platform Foundation® (GAP) is a patient-centric nonprofit dedicated to accelerating the delivery of innovative therapies for neurological disorders by reducing the duration and cost of clinical trials. Research centers across the US and Canada are part of the growing GAP Network (GAP-Net). GAP supports GAP-Net research centers by assisting with study start up and recruitment activities, promoting diversity in research studies, and offering national programs that champion brain health and the citizen scientists who make research possible.